The Toy Library and Early Learning Center will reopen in mid-September! 
We have made great progress in our remodeling project; new shelving and flooring have been installed and the walls have a fresh coat of paint. 
We are in the process of re-inventorying and re-categorizing all of the toys and learning materials and adding new ones.  Our goal is to organize the library in a system that will assist parents and providers in selecting materials to support children's development by age (0-1, 2-3, and 4-5) and domain (language and pre-literacy, movement and physical development, thinking skills, and social and emotional development).  For example, if you have a two year old child who needs support or practice in developing his/her language skills, there will be a section in the library with toys and learning materials to check out for that purpose.
Thank you for your support and patience during this time of transition. We think you will be delighted with the transformation!  Please check back at the end of August for more information about our re-opening date in early September!
A Library of Toys?
It sounds like a crazy idea, but in Napa County it's a reality! CRC's Toy Library is a green and frugal resource for Napa County families and early childhood educators. Toys and early learning materials are available for a month-long loan to anyone who lives in Napa County. Borrowing toys saves families and early childhood educators money and keeps interesting playthings in the hands of children whose developmental needs change rapidly in the early years. As one member puts it, "children fall in and out of love with a toy in a matter of days sometimes". Our toys are selected with an eye for durability, practicality, developmental appropriateness and long-term usefulness.

Toy Library and Early Learning Center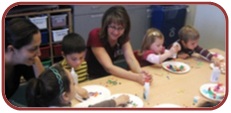 The Toy Library and Early Learning Center loans playthings and early learning materials, and offers technical assistance to support the development of children's language, cognitive, physical and social skills. It is a free resource open to everyone in Napa County – families, early childhood educators, child care providers, grandparents, and more! The Toy Library and Early Learning Center is funded by the First 5 Napa County Children and Families Commission.
Hours of Operation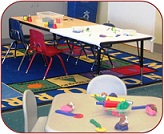 Monday 1:00 pm to 6:00 pm
Wednesday 9:00 am to 12:00 pm
Friday 9:00 am to 2:00 pm
First Saturday of the month 9:00 am to 12:00 pm
Click here to see videos of all of the fun we have at the Toy Library and Early Learning Center!