Tiki for Tots was a great success!
Posted on 10/04/2016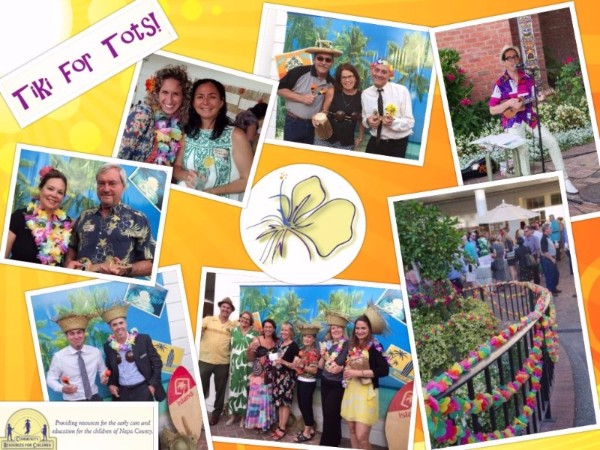 Tiki for Tots was a great success!
​
Thank you to everyone who came out to support Community Resources for Children at Going Tiki for Tots on September 20th. It was a fun filled evening attended by over 120 guests with live ukulele music by Jimmy Duhig and Judd Finkelstein and a couple of surprise guest performers; yummy crispy shrimp, yellowfin ahi tuna, and teriyaki chicken kebabs catered by Silverado Resort; desserts by ABC and Sweetie Pie's; and of course our always popular Wine Pull and Tiki Photo Booth. Many of you got in the Aloha spirit and tried on some island accessories. We had a live Fund-a-Need this year presented by Josh Siechik of Connolly Ranch which was both informative and lively. Our silent auction featured 70 items from some of Napa's finest wineries and a whole range of restaurants. Thank you to everyone who supported our early learning programs by contributing to our Going Tiki for Tots event! Mahalo from us at CRC and hope to see you again next year!!
We would like to thank our Going Tiki for Tots Sponsors for their generous support:
​Bank of Marin
​Bank of Napa
Coblentz Patch Duffy & Bass LLP
Controltec
Eye Spy Vision Care and Optometry
First American Title Co.
Gasser Foundation
Keever Family Foundation
Kent Family
MCT technology Inc.
Napa Jet Center
Napa Pediatric Dentistry
Nova Group
PG&E
Ryan Gregory
Silverado Resort & Spa
The Doctor's Company
Westamerica Bank