Blue Ribbon Campaign Update
Posted on 04/22/2016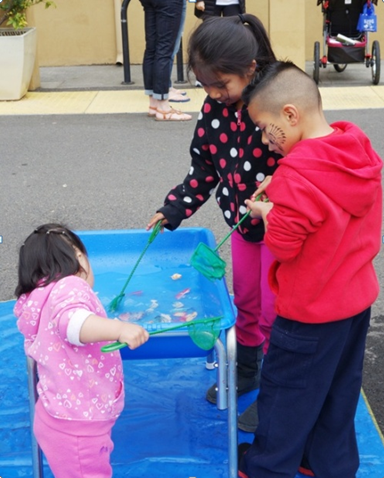 Last year, there were 1,368 reported cases of child abuse in Napa County. That is nearly four per day! That is why Community Resources for Children joins several other partners, along with Cope Family Center, on the Child Abuse Prevention Council to promote the Child Abuse Prevention Month of April – or Blue Ribbon Month.
There have been many events this month to promote the cause, including the #HowWeDoBlue Campaign Kick-Off Event at Cope Family Center and An Evening with Dr. Bonny Forrest at Napa Valley College Performing Arts Center. The Kick-Off Event was a ton of fun, with blue themed activities for children all over. You can see some children enjoying CRC's blue sensory tub in the above image. The following Wednesday, Dr. Bonny Forrest came and spoke about the importance of screening children from 0-3 years old for cognitive, developmental, and behavioral delays or difficulties, as well as her work developing a universal screening tool.
"Dr. Forrest provided the Napa community with insights into the nuances of childhood trauma, and a new understanding of the importance of screenings and interventions focused on early childhood development," said Joelle Gallagher, Cope Family Center executive director. You can learn more about Dr. Forrest and her work at www.projectskip.com.