Active Minds Visits di Rosa
Posted on 04/20/2016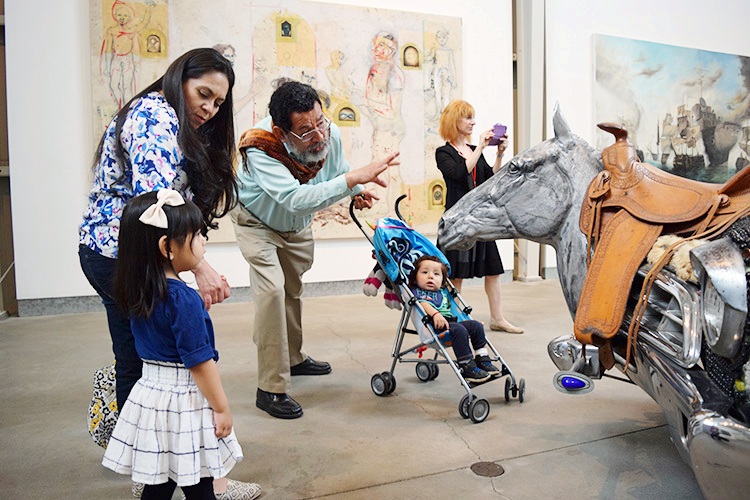 Community Resources for Children and di Rosa inspired families with young children through our partnership which included a field to the di Rosa gallery. Field trips stimulate children's creativity, vocabulary and language development. Visiting neighborhood and community places outside of programs, or having special people visit the classroom, motivates children to learn from new experiences.
Community Resources for Children's (CRC) Active Minds Program experienced a special first field trip to di Rosa on April 7th. Located on 217 acres in the Carneros region of Napa Valley, di Rosa is a catalyst for transformative experiences with contemporary art of Northern California. The museum offers a variety of exhibitions and educational programs for all ages and houses the foremost collection of Bay Area art in the world, with nearly 2,000 works by 800 artists.
CRC's parents and children learned side-by-side at di Rosa about the different exhibits, and children had the opportunity to develop new language as they described the shapes, colors and textures they observed. This multi-faceted experience included:
• Miki Leavey, Education & Volunteer Manager at di Rosa, brought to the Active Minds class different photos of paintings for the children to view and asked questions. "I want you to look with your eyes and use your thinking caps. What do you see in this picture?" Children responded by saying, "A horse." "I see trees." "The wheel is stuck." It was great preparation for the field trip day.
• 13 parents and 13 children boarded a chartered bus for the field trip and drove to di Rosa. This was a day in which children and parents engaged in discussions about art, identifying and naming different elements as well as describing what they observed.
• Over the weekend, some of the participants returned to di Rosa for a second time to have an experience for the entire family which included looking at artwork and also art-related hands-on activities. The Active Minds participants, who had been there during the week, even became leaders for the rest of their family as they guided those new to di Rosa through the galleries.
The children visiting the gallery and touring the grounds was a good and fun experience for all, as they pointed out objects, asked questions, smiled and laughed. Thank you, di Rosa, for the learning opportunity and partnering with CRC.
For more information about di Rosa, go to www.dirosaart.org.