The Benefits Outweigh the Mess
Posted on 01/20/2016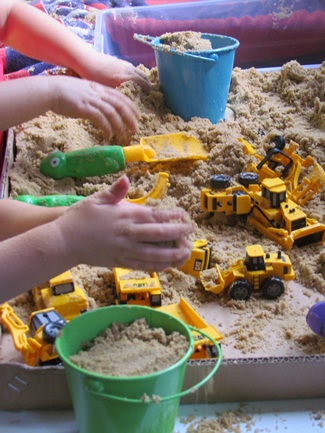 Sensory Play: The Benefits Outweigh the Mess!
Parents and providers both know that sensory play can be a lot of fun and very messy! Don't let the mess be a roadblock to all of the benefits children experience through sensory play. The article below is about the importance of sensory play and what it does for a child's brain development. Some interesting highlights include:
• The benefits of sensory play; what are the children getting out of it? -- When children are playing with sensory materials, they are developing their sense of touch which lays the foundation for many other essential developmental skills.
• What is stopping you from offering sensory play? Is it too messy, is there not enough room or are you just out of fresh sensory table ideas? -- You don't need a large sensory tub if you can set up smaller sensory bins on a table you already have. You can also offer sensory experiences on the floor on top of a plastic mat to help with clean up. You can also enlist the children to help clean up and it is a great way to decrease an adult's work load while helping to teach children valuable life skills.
• Sand and water tables are sensory play staples. Various manipulatives that can be added to the table including small cars, scraps of paper, building tools, kitchen utensils, etc. These items will increase the level of imaginary play and the areas of development that are linked to the child's experience (i.e. language, social-emotional and motor development, etc).
• It is important to account for the individual needs of the child when planning for any activity. In sensory play having materials that appeal to all senses is essential if you have children who thrive while engaged in tactile experiences or ones that are sensitive to certain smells, temperatures, or noise levels.
Here is the highlighted article:
http://www.highscope.org/file/NewsandInformation/Extensions/ExtVol25No5_low.pdf
Here is a link to more great sensory table ideas.
http://www.teachpreschool.org/2011/11/everyday-sensory-play-in-preschool/