Thank You for a Beautiful Day at Kennedy Park!
Posted on 06/07/2010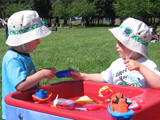 Picnic Day was a huge success! After a week of off and on again rain we were blessed with beautiful weather. Attendance was great-our estimate for this year is about 500! A big thank you to everyone who made this special day possible:
American Canyon Family Resource Center
Child Start Inc.
Children & Weight Coalition
Community Child Care Council
COPE Family Center
Eye Spy Vision Center
Girl Scouts
Napa City-County Library
Napa City Fire Department
Napa County Office of Education
Napa Valley Adult Education
NEWS
ParentsCAN
PDI Surgery Center
Public Information & Education Committee
Safe Kids Napa Valley Chapter - Child Passenger Safety Subcommittee
SAVS of The Volunteer Center
Scientopia Discovery Center Inc.
Queen of the Valley Medical Center
Children's Health Initiative
Who all provided wonderful activities for the children.
Our Volunteers who helped with unloading cars, set up, and safety monitoring:
John, Jennifer and Lindsey of Charter Oak Bank
Mark Nickens
Mike Short
John Alexander
PICNIC DAY WOULD NOT HAVE BEEN POSSIBLE WITHOUT YOU!