Join our Volunteer Team!
Our vision is to engage volunteers in providing services and resources for the early care and education of children by inspiring involvement, supporting effort, and celebrating achievement. Our volunteers have passion, purpose, and power.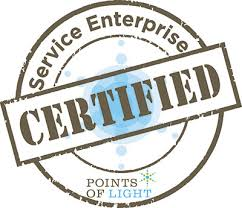 Community Resources for Children is proud to be certified by Points of Light as a Service Enterprise! A Service Enterprise is an organization that fundamentally leverages volunteers and their skills throughout their organization to successfully deliver on its social mission.
We have a wide variety of volunteer opportunities, including activities that include direct engagement with our clients and also project-based opportunities that will strengthen the services and capacity of Community Resources for Children to better serve families of Napa County.  Some examples include:
Join the Resources Development Committee and support us by developing our fundraising/marketing efforts.
 
Support community outreach.
 
Be a photographer and/or videographer for our events.
 
Provide support for the Toy Library and Early Learning Center, including maintaining a welcome and fun environment, loaning toys out to families and child care professionals, and assisting with interactive activities that occur during operating hours.
 
Help with our annual family events like "No Sweet Trick or Treat" in October or "Dr. Seuss Family Literacy Night" in March.
 
Assist with our graphic design needs.
Complete our Volunteer Interest Form to get involved.
Or, contact us at info@crcnapa.org to tailor a volunteer position that furthers the mission of Community Resources for Children and meets your needs! 

Story Time at Napa Farmers Market - We will start recruiting volunteers for this popular program again in the Spring. Story Time takes place every Tuesday and Saturday morning at the Napa Farmer's Market (located in the South Napa Century Center, at 195 Gasser Drive) from 10-10:30am. Readers bring their own books to read to children (age appropriate 0-10 years old). Sharing and reading books with children prepares them for school and establishes a foundation for lifelong learning. If you are interested in becoming a Story Time reader, please contact Eva Simonsson at esimonsson@crcnapa.org.