The mission of Community Resources for Children is to provide resources for the early care and education of children in Napa County. Our services have grown tremendously over the past few years as we have searched for ways to meet the needs of our community. Every donation helps us to take one more step in reaching our goals. Thank you for your donation and for supporting the important work that we do on behalf of Napa's children.
---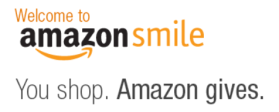 Click on the Amazon Smile link, login to your Amazon account, and select "Community Resources for Children " as your charitable organization. Amazon donates .5% of qualified purchases.

---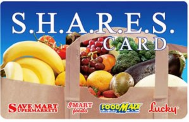 Welcome to the Save Mart Supermarkets and

S-Mart foods S.H.A.R.E.S. Program!S.H.A.R.E.S. is an acronym for Supporting Humanities, Arts, Recreation, Education & Sports in our community. The S.H.A.R.E.S. card program is an easy and efficient way to fundraise. The S.H.A.R.E.S. card is FREE! Each swipe of the S.H.A.R.E.S. card earns up to 3% of qualified purchases for CRC.
Stop by our office and pick up a S.H.A.R.E.S. Card today!!